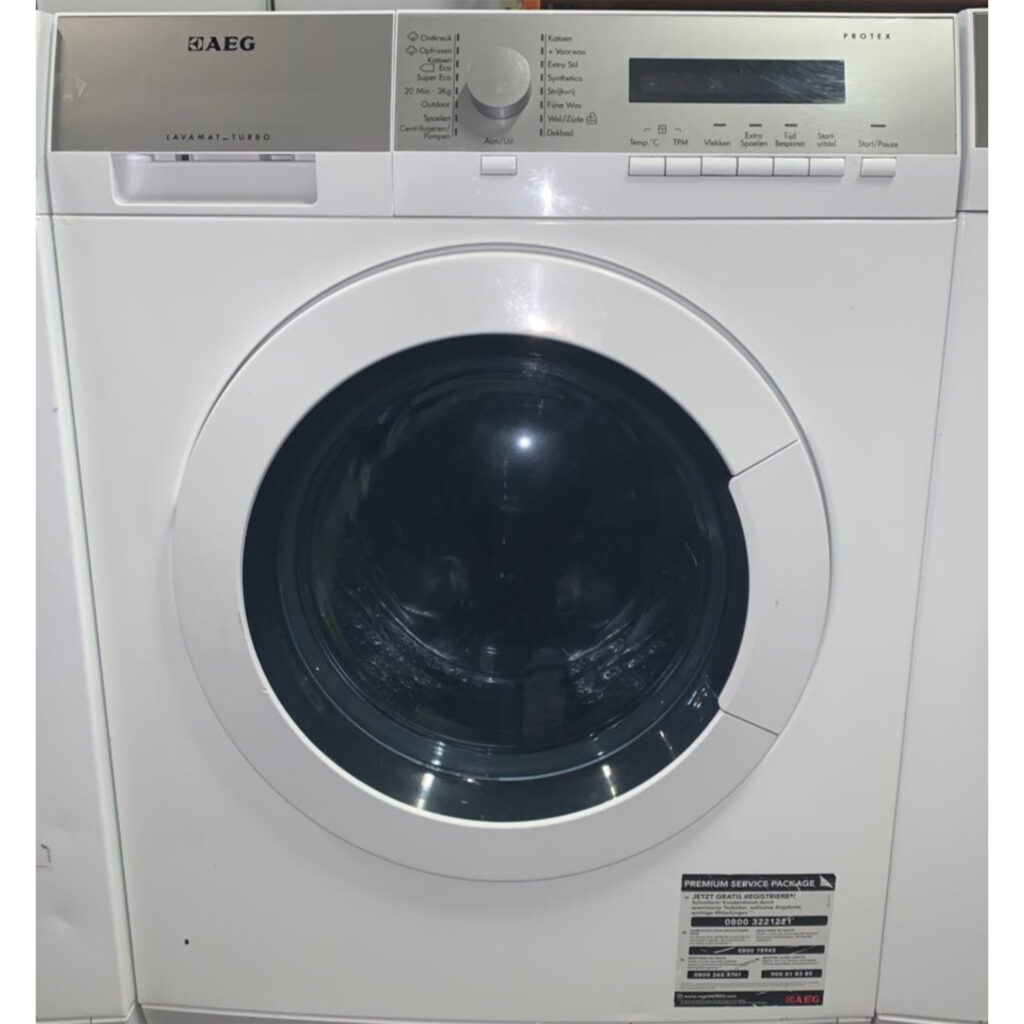 Refurbished Tweedehands AEG L76479FL Wasmachine / met SuperEcoprogramma 15 °C / Energielabel A+++ / 7kg / 1400 toeren / € 229,- / Bezorgen Aansluiten Oude Gratis Afvoeren / Stuur ons een chatbericht of App/Bel ons op (+31)252-769214  / Follow or like us for Restock Alerts!
SuperEcoprogramma 15 °C wast op 15 °C even schoon als andere machines op 40 °C
Stoomprogramma's
OptiSense-systeem: door het aanpassen van de cycluslengte, de waterhoeveelheid en het energiegebruik wordt voorkomen dat kleine ladingen te lang worden gewassen
Protex trommel met kleinere gaten en gestroomlijnd profiel voor bescherming van uw was
Geavanceerd LCD-display
Silent Laundry voor zuinig energie- en waterverbruik
OptiSense-systeem voor laagst mogelijke verbruik van energie, water en tijd
A+++ energie-efficiëntieklasse: 32% lager energiegebruik dan A-labels
Capaciteit: 7kg
Energielabel: A+++
Centrifugetoerental: 1400
Afmeting: H85cm*B60cm*B60cm
Garantie & Gratis Installatie
Bestel hier of stuur een WhatsApp bericht naar (+31)252-769214
Volg ons op Insta, FB & Google via Abcwitgoedonderdelen voor nieuwe voorraadmeldingen!
Bestelformulier (hier Extra Korting**)
Bestelformulier
Nadat wij uw bestelling ontvangen hebben nemen wij contact met u op voor een bezorgafspraak.
After receiving your order we will contact you for a delivery date.
Afrekenen kan bij aflevering (tenzij anders vermeld). Payment is upon delivery (unless stated otherwise).
Voor vragen kunt u bellen naar of whatsappen met: +31252769214. Lees hier onze bezorg- en garantievoorwaarden/ warranty- and deliveryterms en corona maatregelen

Door gebruik te maken van dit formulier gaat u akkoord met de opslag van uw gegevens zoals beschreven in onze privacyverklaring.