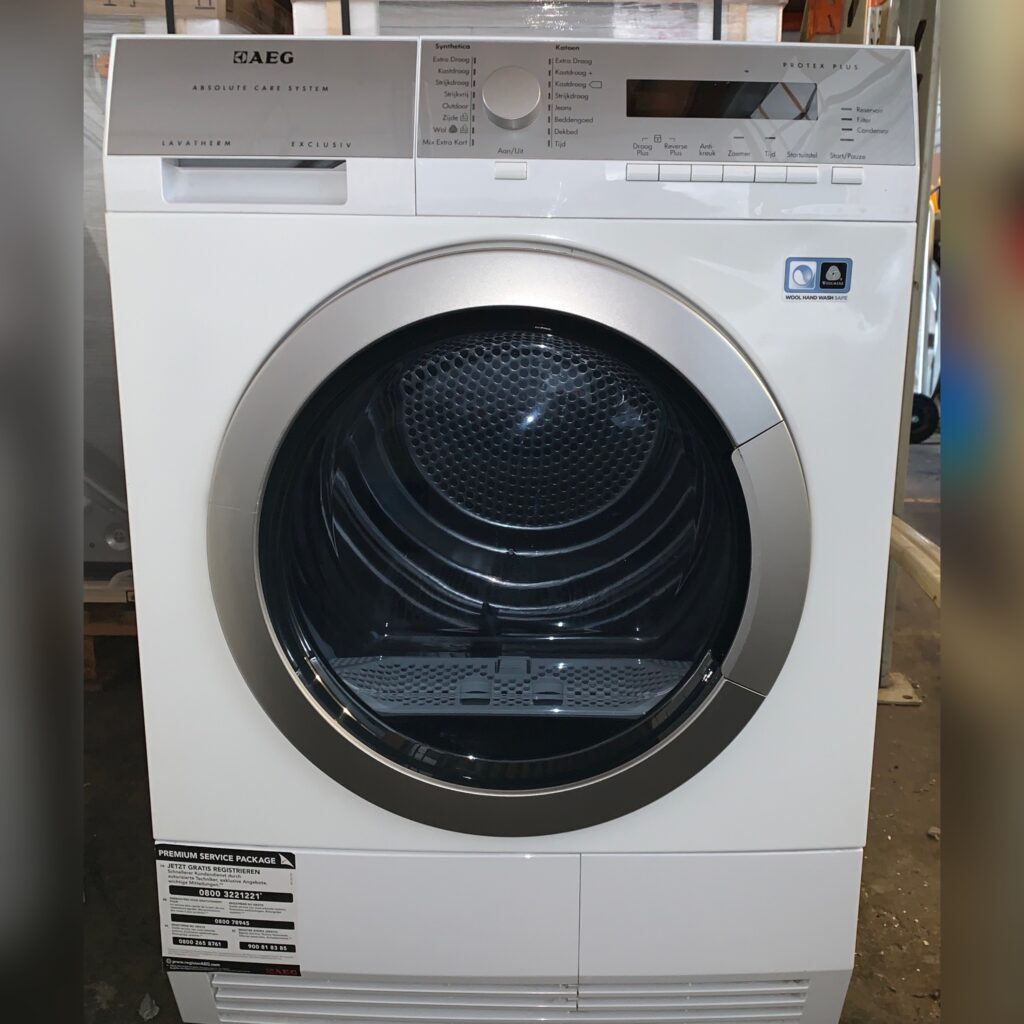 Refurbished Tweedehands AEG T76789NIH Warmtepompdroger / AbsoluteCareTM-systeem / 8kg / Energielabel A++ / €329,- / Bezorgen Aansluiten Oude Afvoeren / Stuur ons een chatbericht of App/Bel ons op (+31)252-769214  / Follow or like us for Restock Alerts!
Warmtepomptechnologie: drogen op een lager temperatuur wat zorgt voor veilig en behoedzaam drogen met lager energieverbruik
AbsoluteCareTM-systeem voor het aangepast drogen van de meest delicate items
ÖKOFlow-filtersysteem zit er maar één filter in de wasdroger die gemakkelijk verwijderd en schoongemaakt kan worden
Sensordroger: de droger voelt wanneer de gewenste droogtegraad is bereikt
ProTex Plus: draait in beide richtingen en zorgt voor de meest efficiënte luchtstroom
Woomark Blue gecertificeerd: droogt de meest delicate ladingen met gelijk matige resultaten
OptiSense-systeem voor laagst mogelijke verbruik van energie, water en tijd
Silent System Plus voor het meest geruisloze droogproces
Waterafvoer via reservoir of afvoerslang
Startuitstel tot 20 uur
Anti-Kreuk
Trommelverlichting
Digitaal Display met resttijdindicatie
Geluidssignaal bij einde programma
Capaciteit: 8kg
Geluidsniveau: 66dB
Energielabel: A++
Energieverbruik p/jr: 235kWh
Afmetingen: 85H*60B*60D
Garantie & Gratis Installatie
Stuur een chatbericht of App/Bel ons op (+31)252-769214
Volg ons op Insta, Fb en Google Maps voor nieuwe voorraadmeldingen
Bestelformulier (hier Extra Korting**)
Bestelformulier
Nadat wij uw bestelling ontvangen hebben nemen wij contact met u op voor een bezorgafspraak.
After receiving your order we will contact you for a delivery date.
Afrekenen kan bij aflevering (tenzij anders vermeld). Payment is upon delivery (unless stated otherwise).
Voor vragen kunt u bellen naar of whatsappen met: +31252769214. Lees hier onze bezorg- en garantievoorwaarden/ warranty- and deliveryterms en corona maatregelen

Door gebruik te maken van dit formulier gaat u akkoord met de opslag van uw gegevens zoals beschreven in onze privacyverklaring.