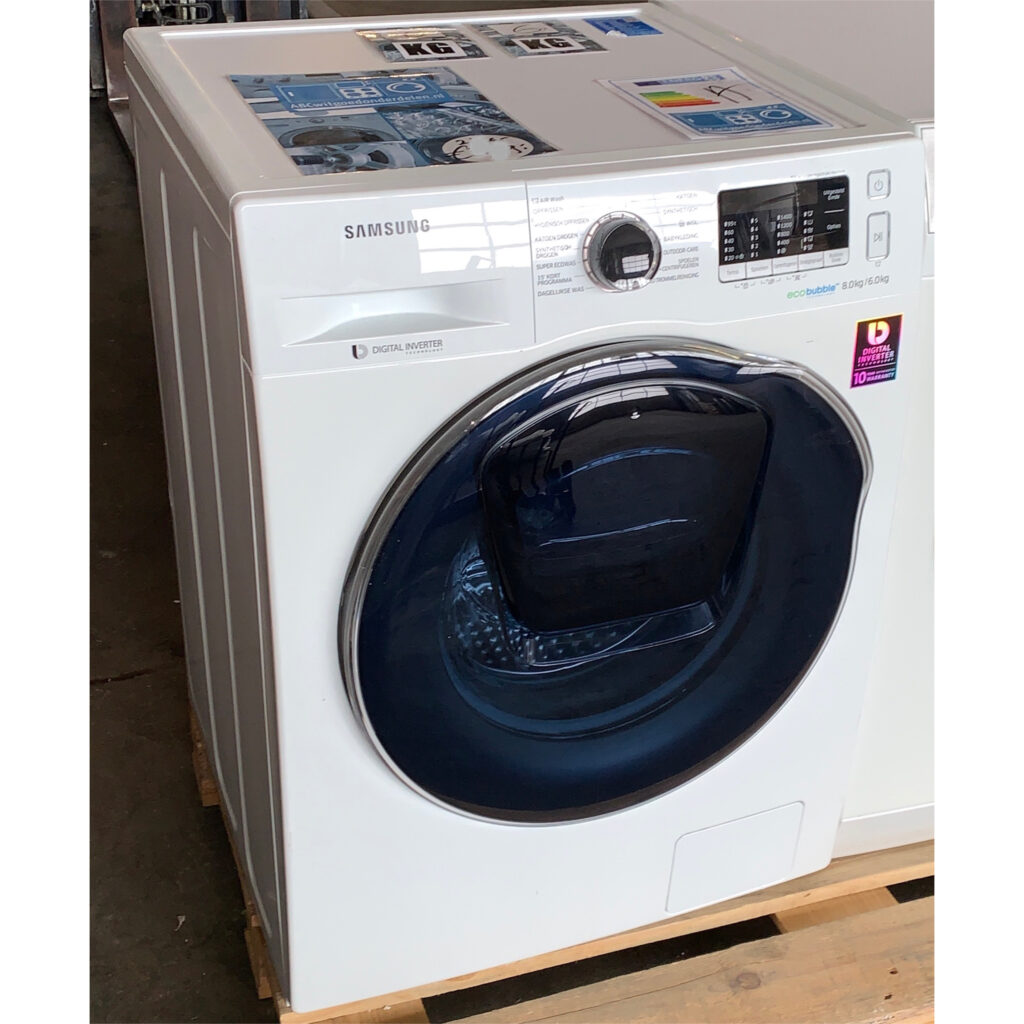 Refurbished Tweedehands SAMSUNG WD80K5A00 Wasdroogcombinatie / 2 Jaar jong / 8kg / 1400 toeren / € 459,- / Bezorgen / Stuur ons een chatbericht of App/Bel ons op (+31)252-769214 / Follow or like us for Restock Alerts!
• Eco Bubble Technologie: met reinigende schuimbubbels voor snellere schone kleding • Diamond Drum: trommel met gestroomlijnde zorgt voor krachtige, maar behoedzame wasresultaten
• BubbleSoak technologie voor het verwijderen van hardnekkige vlekken
• Smart Check App
• Speed Spray-functie voor uw snelle was
• Air Wash technologie voor frisse en schone kleren; de hete lucht rekent af met vieze geurtjes en bacteriën
• Eco Drum Clean-functie : milieuvriendelijke reinigingscyclus verwijdert wasmiddelresten en vuilophoping
• Quick Wash programma van 15 minuten
• LED Display
• Startuitstel
• Waterbeveiliging
• Kinderbeveiliging
• Wascapaciteit: 8kg
• Droogcapaciteit: 4,5kg
• Energielabel: A
• Centrifugetoerental: 1400
• Geluidsniveau: Wassen 54db + Centrifugeren 73dB + Drogen 62dB
• Afmeting: H85cm*B60cm*D60cm
• Garantie & Gratis Installatie
• Stuur een chatbericht of App/Bel ons op (+31)252-769214
• Volg ons op Google Maps, Insta of fb voor nieuwe voorraadmeldingen
Bestelformulier (hier Extra Korting**)
Bestelformulier
Nadat wij uw bestelling ontvangen hebben nemen wij contact met u op voor een bezorgafspraak.
After receiving your order we will contact you for a delivery date.
Afrekenen kan bij aflevering (tenzij anders vermeld). Payment is upon delivery (unless stated otherwise).
Voor vragen kunt u bellen naar of whatsappen met: +31252769214. Lees hier onze bezorg- en garantievoorwaarden/ warranty- and deliveryterms en corona maatregelen

Door gebruik te maken van dit formulier gaat u akkoord met de opslag van uw gegevens zoals beschreven in onze privacyverklaring.